Profit for Purpose
Scoop and Scales was born from a group of individuals passionate about trying to improve the community in which we live.  Our primary aim is to reduce plastic locally and to encourage people to shop more thoughtfully, but as a co-operative we believe in wider ethical values of social responsibility and caring for other. As such we have a shared vision of supporting local community charities and actions spreading kindness as we grow… which goes a bit like this: 
May 2022
Thanks to one of our customers who made loads of amazing knitters sunflowers.
We sold these in the shop and were delighted to raise £194 for the Ukrain Crisis Appeal of the British Red Cross.
February 2022
We have purchased another batch of litter picking equipment – with 15 new pickers arriving in store, for people to borrow as they wish.
We invested £158 in these.
September 2021
The amount of Terracycle being collected from the shop has grown massively (thanks to our customers!). To help Kate and her team of volunteers we have purchased a unit for £20 which allows the streams to be separated easily.
Summer 2021
Macclesfield Repair Cafe was developed by a group of enthusiastic repairers. The first repair cafe took place in September 2021.
Scoop and Scales were pleased to be able to support the Repair Cafe with £498 for rent, insurance, and a PAT testing course.
February 2021
Bollington based Inland Sea ran a Kickstarter to raise money to create t-shirts made from fabric containing seaweed fibre and invest in seaweed farms in the UK.
We were delighted to help them reach their target by purchasing a corporate package for £900.
We still have some of their amazing seaweed tees for sale in our shop.
January 2021
Thanks to the generosity of our customers, we were able to raise £246 to buy goods for these amazing hampers for staff at Macclesfield Hospital.
September - November 2020
Macclesfield Parish Scouts and Guides have been fundraising for some vital repair work at their Station Street hut. We were able make a donation of £120 as part of their buy a brick fund. 
May - August 2020 - donation to the Hope Centre and Project Grow at Cre8 
The Hope Centre and Project Grow at Cre8 have joined forces to cook, freeze and deliver healthy meals to local communities during the Coronavirus lockdown.
We ordered some lentils, pulses and pasta (costing £50) to donate to this worthy cause as part of our seventh buying cycle.
We have also made cash donations as a re-investment of our (currently modest!) profits.
Sales of our reusable face masks have also generated over £125 in donations.
April and May 2020 – maintenance at the Scout Hut 
It has been great to lend a hand at Macclesfield Parish Scouts and Guides Hut with some grounds/building maintenance (we have a talented gardener in our midst!)  to repay their generosity in lending us the building for food weighing and scooping pre-distribution during recent challenging times. We also made a donation of £30. 
April 2020 - foodbank donation
Our sixth buying cycle in April saw us move to a model of delivering orders for our members. Thanks to their generous donations, we are proud to have been able to support Silklife Foodbank with a selection of items that can be distributed throughout the area as part of their work.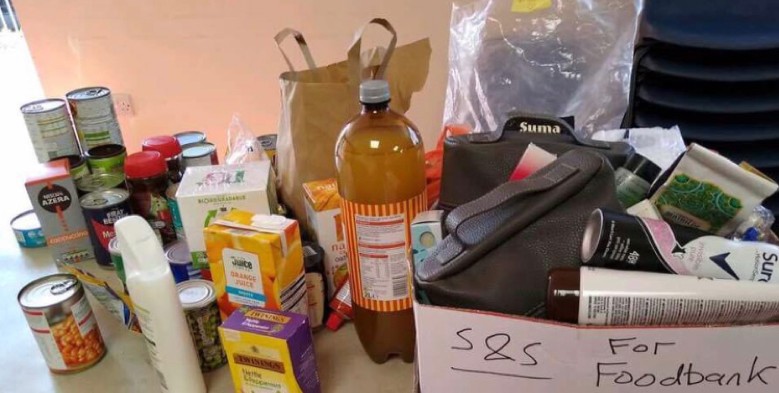 April 2020 - Supporting local NHS staff 
In recent challenging times of corona virus, we were delighted to be able to donate hair and body care products worth £100 (whilst reusing packaging!) to the wonderful staff at Macclesfield Hospital so they can change out of uniform and wash at the hospital at the end of shifts.  One of our talented officers is also currently very busy cutting and sewing scrubs  for donation to the hospital for staff to wear whilst at work. 
2019
The Hope Centre was the venue for our early collection events and meetings. From buying cycles 3,4,7 and our early pop ups events, we were able to donate £463.
Watch this space for more as we grow…. Together we are stronger.