Profit for Purpose
Scoop and Scales was born from a group of individuals passionate about trying to improve the community in which we live.  Our primary aim is to reduce plastic locally and to encourage people to shop more thoughtfully, but as a co-operative we believe in wider ethical values of social responsibility and caring for other. As such we have a shared vision of supporting local community charities and actions spreading kindness as we grow… which goes a bit like this: 
May - August 2020 - donation to the Hope Centre and Project Grow at Cre8 
The Hope Centre and Project Grow at Cre8 have joined forces to cook, freeze and deliver healthy meals to local communities during the Coronavirus lockdown.
We ordered some lentils, pulses and pasta to donate to this worthy cause as part of our seventh buying cycle.

We have also made cash donations as a re-investment of our (currently modest!) profits.
Sales of our reusable face masks have also generated over £100 to donate.
April and May 2020 – maintenance at the Scout Hut 
It has been great to lend a hand at Macclesfield Parish Scouts and Guides Hut with some grounds/building maintenance (we have a talented gardener in our midst!)  to repay their generosity in lending us the building for food weighing and scooping pre-distribution during recent challenging times. 
April 2020 - foodbank donation
Our sixth buying cycle in April saw us move to a model of delivering orders for our members. Thanks to their generous donations, we are proud to have been able to support Silklife Foodbank with a selection of items that can be distributed throughout the area as part of their work.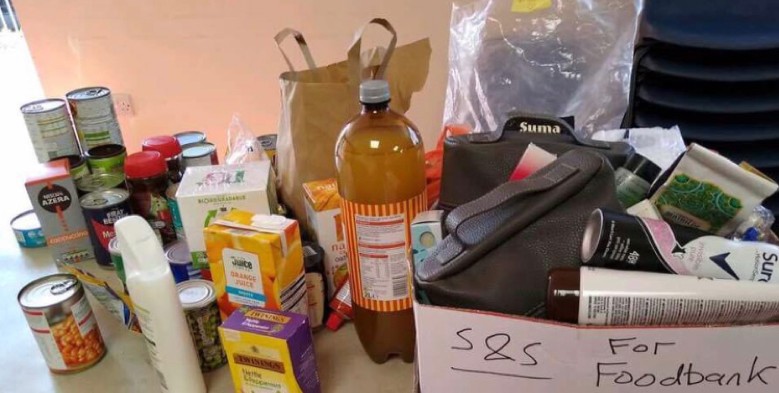 April 2020 - Supporting local NHS staff 
In recent challenging times of corona virus, we were delighted to be able to donate hair and body care products (whilst reusing packaging!) to the wonderful staff at Macclesfield Hospital so they can change out of uniform and wash at the hospital at the end of shifts.  One of our talented officers is also currently very busy cutting and sewing scrubs  for donation to the hospital for staff to wear whilst at work. 
Watch this space for more as we grow…. Together we are stronger.